What is Dental Laser?
A Dental Laser is an instrument that produces a narrow intense beam of light energy. When this light beam comes in to contact with tissue, it causes a reaction of cutting or vaporising to shape or remove.
Below is the Laser Equipment Used in Our Surgeries:
"Waterlase"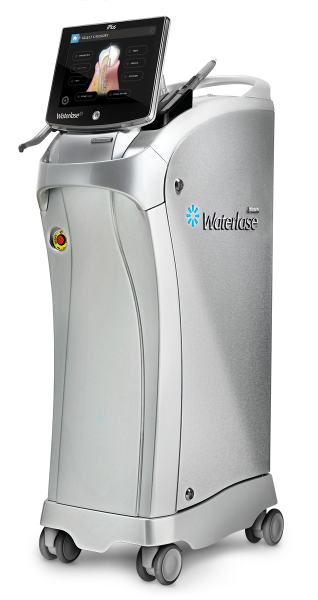 WaterLase Dentistry
WaterLase dentistry is one of the most advanced dental treatments today. WaterLase uses a patented technology that combines focused light energy with a stream of water for a highly precise, exceptionally gentle dental experience. WaterLase allows your dentist to perform a wide range of procedures with benefits including:
Faster healing time and less trauma to teeth and gums.
Less anesthetic for most procedures.
Treating dental needs in more than one part of the mouth in one visit.
Making dental care a more relaxing experience for you.
What Can WaterLase Dentistry Do?
We may use WaterLase dentistry laser to treat your gums or other soft tissue in your mouth to:
We may suggest contouring or shaping your gums using WaterLase dentistry to improve the appearance of your smile – safely removing excess gum tissue that may give you a "gummy" smile, or make your front teeth appear irregular in size or shape.

Before and after of a Gingivectomy performed by Dr Monika Shah

REMOVE ORAL GROWTHS
Quickly and safely remove growths or excess tissue in your mouth including gum tissue over an unerupted tooth, small "tags" called papilla, and growths called fibromas.
FIX A "TONGUE TIE" OR PREVENT GUM RECESSION – Tongue and Lip tie removal
Connections that restrict the movement of your tongue or cause your gums to recede can be "released" with less post-operative pain. These connections when found on a baby can reduce the movement of the tongue to move freely in the babies' mouth and cause difficulty for the baby to feed. Releasing these ties can create better function for the baby helping them to feed better and with more confort
Tongue Tie
Before and After of a laser tongue tie removal preformed by Dr Monika Shah

Lip Tie
TREAT PERIODONTAL DISEASE
We recommend using WaterLase dentistry to remove debris and bacteria between your teeth and gums that can cause bleeding gums, gum recession and even loss of teeth. For moderate to severe gum disease, ask your doctor about REPAIR minimally invasive periodontal treatment.
Exposure of Unerupted Teeth
Impacted teeth are simply those that cannot properly erupt into the mouth. Gums covering the unerupted tooth will be lifted by the laser to expose the hidden tooth underneath.
Operculectomy
Surgical removal of the operculum, a flap of tissue over a partially erupted tooth, particularly the third molar region.
FAQs