Implants
"FREE CONSULT"

Do you have one or more teeth missing?
Do you want to replace missing teeth?
Do you wish to have more secure and permanent denture?
Dental Implants From $4000 Per Tooth.
Discounts for multiple Dental Implants.
What Are Dental Implants?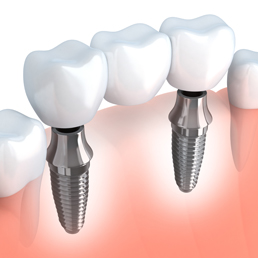 Dental Implants are one of the multiple treatments for replacing missing teeth. (Until few years ago, Dental Bridges and Dentures were the only solutions for missing teeth).
Dental Implants in simpler terms is replacement strong tooth roots on which fixed/permanent or removable replacement teeth are fitted, matching with your natural teeth.
Dental Implants are made up of 3 parts:
A Screw : Placed inside the bone, acts as replacement root.
Connector : Also known as "Abutment". This part connects the screw/replacement root with the crown/root
Crown : Placed on top of the connector.

Whether you are missing one tooth or multiple teeth, Dental Implants can replace missing teeth. If you wish to have a permanent denture, there is a solution – Implant Supported Dentures.
Who Can Recieve an Implant?
Many factors play into the success of implant dentistry. A few common components that your dentist will look for include:
Adequate Bone Support: Since dental implants fuse with the jawbone to anchor the tooth, adequate bone density and quality is one of the most important requirements for dental implants success. Bone grafts can often be considered for patients that do not have enough bone support.
Good Overall Health: Since implant dentistry requires a surgical procedure, it is important that you are in good health. Patients who smoke, drink alcohol, or have diabetes usually have lower success rates with dental implants since these conditions can lower oral health, which affects the healing process of the implant.
Healthy Gums: Healthy gums are necessary to support the new dental implants as it fuses with the jawbone. Patients with a high risk of periodontal (gum) disease often experience dental implants failure.
Commitment to Oral Health: A dental implants requires excellent dental hygiene. A commitment to daily brushing and flossing, along with periodic visits to the dentist is crucial.
Advantages of Dental Implants
There are many advantages for choosing Dental Implants:
Aesthetics. Dental Implants are a permanent solution and are designed to match the colour and shape of your natural teeth for a beautiful healthy smile.
Stronger and More Durable: Because Dental Implants are designed to fuse to the bone, they become permanent. With good oral hygiene and care, Dental Implants will last many years and in some cases, may last a lifetime. Because Dental Implants are stronger and more durable they provide you with the support needed so you can enjoy eating all the foods you love.
Comfort and Natural Function: Dental Implants eliminate the discomfort caused by dentures or the embarrassing inconvenience of removing them. Dental Implants allow you to speak without the worry that teeth may slip, improving your speech and self-confidence. With Dental Implants being a permanent option, there is no need to remove them to clean your teeth being more convenient and feeling more natural.
Improved Oral Health: With missing teeth, you effectively lose about 10% of your chewing ability and put more stress on your remaining teeth. Dental Implants can prevent abnormal growth of the remaining teeth which can affect the appearance and function if left untreated. Because normal teeth are not altered to support the implant, more of your own teeth are left intact, improving long term oral health. Because Dental Implants do not require support from the surrounding teeth, like a bridge, it preserves your existing teeth.
Dental Implants Procedure
There are 4 stages required to complete a Dental Implants.
Treatment Plan:
After determination that your mouth can support an Implant, the first step involves writing up your personalised treatment plan. This addresses your individual needs. Generally, a Cone Beam 3D Scan (Cone Beam Computed Tomography) of the area is needed to assess if there is enough bone level around the site of the implant location.
Placement of Implant
The second stage involves the placement of the Implant. A titanium screw that is placed into the bone via an incision in the gum. This is done under a local anaesthetic. The Implant is then left to heal for three months and for the bone to grow around and fuse to the Implant.
Placement of Abutment
The third stage involves placing the connector (abutment) to the screw to securely hold the new tooth. Some moulds (impressions) of your mouth are taken and sent away for the making of the crown.
Crown Fitting
The fourth stage is to fit the crown onto the Dental Implants.
Implant Solutions for Missing Teeth
Dental Implants are designed to serve a variety of functions to meet the needs of patients who are missing teeth. They are one of the most successful tooth replacement procedures available. Dental Implants can replace a single tooth with a crown, or several teeth with implant supported bridges or implant retained dentures.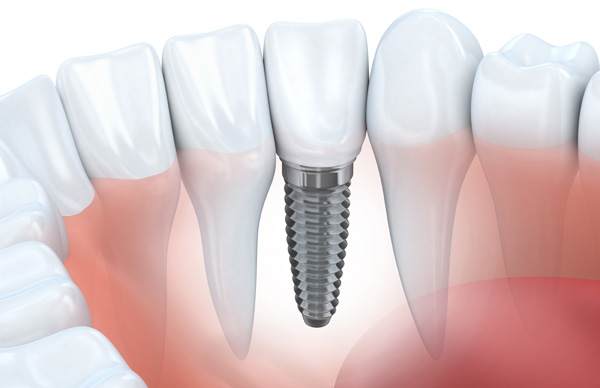 1. Single Tooth Replacement
A Single Tooth Dental Implants is the modern alternative to replacing a missing tooth. A Dental Implants will restore the form and function of the missing tooth whilst giving you a beautiful and seamless replacement solution. If you're looking to replace your missing tooth, a Dental Implants feels just like your natural teeth.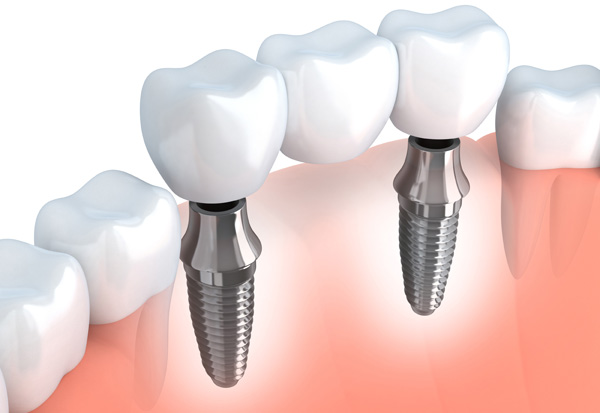 2. Multiple Tooth Replacement
If you have two or more teeth missing, Dental Implants are still an option for you, with the choice of Implant retained Dentures or an Implant Bridge. The procedure is the same as a single Implant, however multiple Screws would be placed depending on your needs. The best option for you would be discussed at the first appointment, when writing up your personalised treatment plan.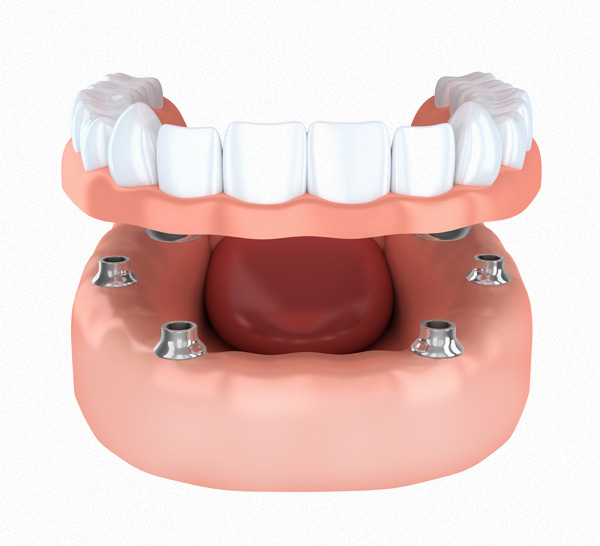 3. Denture Replacement / Implant Support Dentures
If you are looking to replace your existing denture, then an Implant retained denture could be the perfect option for you.
Instead of using the titanium screw to support a crown, the screw can be fitted with special clips or attachments that firmly hold a denture in position. The aim is to improve stability of the denture.
Cost for Dental Implants
The cost of Dental Implants varies with many different factors involved, such as the number of missing teeth, the bone structure available for placement and the type of tooth replacement method, whether a crown, denture or bridge is used.
A Single Dental Implants and Crown can start from $5000 per tooth.
We offer Discount when multiple Dental Implants are being placed. This can start from $4500 after discounts.
The guide below can give you an idea of what is included when calculating the cost of dental implants.
Please bear in mind that additional item numbers may be required, such as extraction of broken teeth, bone grafts, or temporary dentures, which could vary the cost slightly.
Stage 1. Treatment Plan:
| | | |
| --- | --- | --- |
| Examination | #012 | $62 |
| X-rays intra-oral (2) | #022 x2 | $94 |
| X-ray OPG | #037 | $0 Gap free or through Medicare |
| Total | | $156 |

Cone Beam 3D Scan (Cone Beam Computed Tomography) – You will be given a referral to have a cone beam scan at Newcastle X-ray and Ultrasound- Prices range from $115-$135.
Stage 2. Implant Placement:
Single Dental Implants
| | | |
| --- | --- | --- |
| | Item No | Fee |
| Surgical guide if needed | #679 | $200 if needed |
| One stage insertion of implant | #688 | $2500 |
| X-ray | #022 | $0 |
| Total | | $2700 |
Stage 3.Placement of Abutment:
Single Dental Implants
| | | |
| --- | --- | --- |
| | Item No | Fee |
| Diagnostic models (2) | #071 x 2 | $114 |
| X-ray | #022 | $0 |
| Total | | $114 |
Stage 4. Placement of Crown:
Single Dental Implants
| | | |
| --- | --- | --- |
| | Item No | Fee |
| Implant Crown | #671 | $2400 |
| X-ray | #022 | $0 |
| Total | | $2400 |
All stages 2-4 of Multiple Dental Implants
| | | |
| --- | --- | --- |
| | Item No | Fee |
| One stage insertion of implant | #688 x 2 | $4500 |
| Bridge pontic -per pontic | #643 x 1 | $1030 |
| Implant crown | #671 x 2 or #672 x 2 | $4000 |
| Diagnostic Models (2) | #071 x 2 | $114 |
| X-rays intra-oral | #022 | $0 |
| Total | | $9644 |

Bone Grafting- If bone grafting is required, item number is #243 and the fee will be $300.
Dental Payment Plans
Ms Dental have teamed up with DentiCare Payment Plans to offer you an easy, worry free, payment plan option. With a 20% deposit, you can pay your treatment off over a 18 month period, making your dental implants affordable.
Please read more Information about Denticare payment Plans by clicking here.
How Successful Are Dental Implants?
The success rate of Dental Implants depends on the placement in the jaw and the Oral Hygiene of the patient.
Things such as smoking or bad oral hygiene can decrease the success rate of your Implant.
Generally, over 98% of cases are successful.
Care for Dental Implants
Good oral hygiene is very important in the success of your implant. The care for your Implant is the same as the way you care for your natural teeth. Brush twice a day with a small soft brush, using a fluoride toothpaste. Floss once a day, and maintain your regular 6 monthly check up and clean with your Dentist.
Good oral hygiene is the key to a successful Implant.
How long will dental implants last?
No one knows how long each individual Implant will last. Some factors that can impact the life of an Implant can include, the patients over all oral hygiene, nutrition, each individual anatomy and bone structure, and personal habits, such as smoking.
Properly maintained and looked after Dental Implants may last a life time.



FAQs: